<<
moron parade | dark nights : knife city | 06.29.04
from Space City Rock; Houston, Texas

An album like Moron Parade's Dark Nights, Knife City is one of those albums that restores your faith in music. Just when you've had your fill of self-absorbed trendy hipsters spouting off about how you should vote or alcoholic has-beens decrying a war, an album like this comes your way and makes it all seem better.

Moron Parade, a collective of musicians from Seattle and Colorado, seem to take a minimalist approach to their music. There no sense of grand production, no sing-song choruses, no pretentiousness. Instead, the songs on Dark Nights, Knife City are indie-rock in the finest tradition of late '80s or early '90s breakout bands like Pavement, Sonic Youth, and even Nirvana (at times). It's poppy at points, dark when it should be, and ultimately brilliant.

The band -- at last count, Stephen Evins, Adam King, Matt Martin, Daryl Waits, and Mark Mercer -- stick to no formula and never once let Dark Nights succumb to the perils of trying to be something it's not. You won't hear Moron Parade's music on the O.C. or the latest teenage comedy, nor should you. The songs on Dark Nights, Knife City deserve better than that. Check out the album for yourself, and you'll undoubtedly discover one of music's best-kept secrets. (DAC)


<<
moron parade | dark nights : knife city | 01.20.09
from Summer of Hate; Umea, Sweden


This is already the 10th album by this band that has been around only since late 2000. And it's got 19 songs on it. I haven't heard any of their previous stuff, but this is somewhere in an american alternative lo-fi pop land, which is not really my cup of tea. A music journalist would probably call it post-pop or something like that.

First of all, it's not bad. There is an urgency to some of the vocals and some of it is really cool. This doesn't seem to be designed by media students to be in or right or anything like that. Some of the riffs feel like they're taken from the new wave / rock acts of the early 80's. Nothing is really fast or really slow, and it's all guitar, bass, drums and vocals without any distrortion or effects at all. The obvious reference for a punk like me would be THE FALL or WIRE, though this is pretty far from what they sound like and with a distinctly american feel to it.

I wish the lyrics had been included in the promo package, as they might have something there.

Maybe this sounds like an insult to the band but it's kinda pleasant sounding really, at their best. Some of it is a bit too wimpy though, like a TENACIOUS D type student rock, and it has a tendency to go on a bit too.
Karl Backman - Umeå, sweden


<<
moron parade | dark nights : knife city | 01.20.09
from Prog Resiste; Limal, Belgium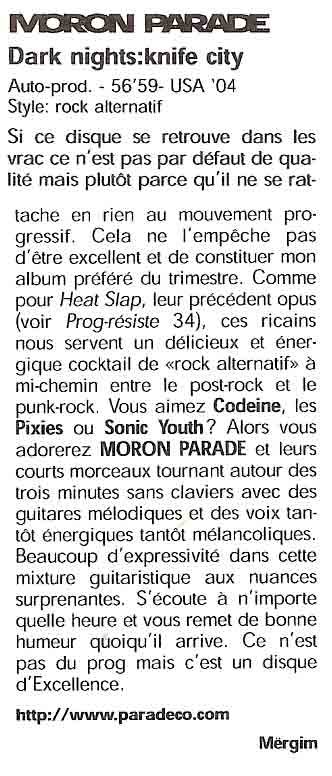 <<
moron parade | dark nights : knife city | 01.20.09
from Popmatters; Evanston, Illinois

Moron Parade, Dark Knights: Knife City (Paradeco)
This is the type of rock and roll played by excessively smart hoodlums since the dawn of time. They've got screaming guitars, droning basslines, thrashing drums, and barely-heard vocals over it all. They've undoubtedly got a knack for the type of wry indie songwriting influenced by Pavement and any number of K Records groups. Surprisingly, they're also quite versatile, with material running the gamut from the joyously ramshackle, major-chord shout-along "Borrower", to the early-Clash crib "Castle" (which has the exact same chord progression as "Clash City Rockers"), to the Modest Mouse vamp "Systems Cycles". For fans of the irreducibly lo-fi, this album may prove a major revelation. Moron Parade may not have reinvented the wheel, but they have produced -- with the help of some obvious influences -- a damn fine record.

— Tim O'Neil


<<
moron parade | dark nights : knife city | 01.20.09
from Paperlate; Milano, Italy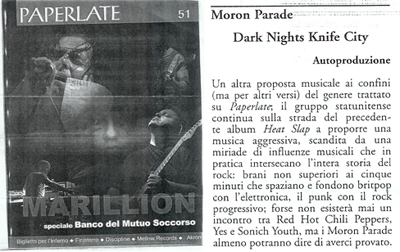 <<
moron parade | dark nights : knife city | 01.20.09
from Ink19; Mellbourne, Florida

I give this band points for the name alone. Moron Parade combines a self-released, lo-fi sound with a penchant for colons in their album titles, and comes up with a nice but unremarkable product. Guitar and bass are clanky and fuzzy, respectively, and the drummer keeps things moving along. But I just can't click into the songs. "Big Thruster" comes the closest, but it's a bit atypical, with a complex lyric sung or chanted by the band, pointing out that you wouldn't like it if I came to your house and hid stuff without telling you. More typical is the opaque "Grabstick Girl," with its laid back vocals, and "Chinos Radio," beginning with a quiet guitar intro, then inexplicably stepping up to a fuzzed out feedback tirade of noise.

It's not clear from the insert who in the band plays which instrument, but they do it well enough. Overall, the sound is thin (well, that's low fidelity, of course), the lyrics are a bit obscure and no danger of a hook lurks here. Moron Parade is sound best appreciated on late night radio, and even then you need to be in the right mood.

Carl F Gauze


<<
moron parade | dark nights : knife city | 01.20.09
from Axiom of Choice; Utrecht, Netherlands

Summary:

The music
The tracks on this album are pretty short in general (averaging three minutes). Most have a feeling somewhere between American noise and punk rock of such bands as Codeine, Pixies or Presidents of the USA. Initially there's a waft of Wipers, but that deminishes quickly. The Codeine reference comes form the laziness of the majority of tracks, whilst the Wipers like tracks are harder, faster and lifelier. These are the ones that entice, the other ones just drift by, not particularly raising the attention.

On a technical level I'm far from happy with this offering: most tracks sound as if recorded in a plastic bag and my CDR copy had a lot of nasty distortion on it. And since I fear there won't be a release on any other medium than CDR, this is a point of attention.

Conclusion:

At times Moron Parade sound like they're playing this one live. There may be some technical compromises in this, but it does help in getting the feeling across. Still, one would have to feel that there just aren't enough interesting licks on this one to make it rise above the field of bands in the genre. A bunch of good tracks, but just not enough to make a good album.

© Roberto Lambooy

Review of dark nights: knife city from Jurrian Hage's Axiom of Choice

Progressive rock Zine from Utrecht, The Netherlands.


<<
moron parade | sleephat | 01.20.09
from Cuts the Meat; Chicago, Illinois

The "Token DIY Indie Band" Award
Moron Parade - Sleep Hat

Like most of us, I'm a pretty busy guy. Between my full time job, school, new house and running CTM, I don't have a whole lot of time to go in search of new music. So I was blessed when Daniel sent me this little gem to review. Moron Parade takes a Guided By Voices approach in making the wonderfully lo-fi, epically long (in tracks, not time) Sleep Hat. The variety of music on this little LP is only one of its many high points. I can only hope that the instrumentals dwindle on their next full-length, but this one was well worth my time.
art, cuts the meat


<<
moron parade | sleephat | 01.20.09
from Delusions of Adequacy; Utrecht, Netherlands

As much as youth is the period of our lives where we try to find some semblance of personhood and stability in our emerging sense of identity, it seems somewhat strange that as soon as we reach the quasi-steadiness of adulthood we often begin searching for ways to redefine ourselves. Doing so can be horribly frightening, though, as we never really know if the identity we are embracing is going to bring us any more satisfaction than the one we discarded. To that extent, it can be very tempting to simply assume another character altogether, heading out into life as an anonymous new creation, free of an accumulated past and capable of shedding the baggage of our previous ways of relating to the world. In such cases, a little bit of obscurity and facelessness can be a comfort, leaving the path to retreat wide open if we need it, kicking dust over tracks that nobody ever needs to know existed. Anonymity can be a profound safeguard.

And while I wouldn't profess to know just why the members of Moron Parade decided to release their album with nothing more than a liner note saying this album was "written, performed, recorded, and mixed by a group of individuals who call themselves Moron Parade," it's apparent that no one is quite yet ready to put their name behind this band. I'm not exactly sure why, either, because their sophomore album is actually a generally impressive work, spanning 21 tracks and nearly an hour in length and featuring more lo-fi squall and careening guitar lines than a Pavement cover band. Of course, such comparisons only drive home the point that most of the tricks on these arrangements are called out of the "indie-rock playbook" circa 1994, but that's hardly a complaint, as the fact that angular guitars and distorted hooks may not be entirely original actually means that songwriters who use them have to be particularly proficient to deserve a second listen. These songs do.

From the seasick guitar lines and noisefest climax of "Chard" to the haunting minor key melody of "Grip," the band has a fairly strong grasp on the concept of dynamic tension, using slight variations and nuance within repetition to create something vaguely memorable. The muscular power riff shout-along of "Fexture Fix" is nicely balanced by the soft sway "Harpor" and sour vocals of the drowsy "Flurb," and the band seems equally comfortable turning out anthems as it does pensively unwinding guitar passages.

Even if no one is identified by name, it's obvious that a few songwriters are sharing duties here, with loud, bruising riffs generally balanced in number by more pensive, literate arrangements, although words are generally so low in the mix as to be indecipherable. Sure, the occasional line like "Let's go out and drink some beer / go outside and go insane" rises out of the ether, but it would seem that such maxims are issued with tongue firmly in cheek (at least, I would hope). Most impressive may be the instrumentals that make up roughly half of the set, with the elliptical grooves and messy rise and fall becoming nearly as compelling as those with vocals, although hearing the band's vocalists constantly jostle for position and shouting over each other is one of their most distinguishing characteristics.

Of course, this album could probably stand to have a little more engineering and production behind it, and the band could rock with a little more distinction if they allowed their personalities to come across a bit more boldly. Just as each individual band members' legal identity is not known, the band as a collective still seems to be growing towards finding their creative identity. All in all, it's a pretty good album and certainly not a bad second release; whoever made it should be fairly pleased with themselves. Next time, though, put your names on it.

- Matt Fink, 1/26/2004



<<
moron parade | sleephat | 01.20.09
from Cuts the Meat; Chicago, Illinois



Another paper sleeve CD-R, another interesting LP. How are the record labels missing this stuff? There are some truly interesting bands out there that aren't getting the credit they deserve. Sure, the packaging ain't pretty, but how does that old parable go? You shouldn't judge a chicken by the color of its feathers, right? HA! Man, chickens never get old.

Seattle's Moron Parade has put together twenty-one incredibly thoughtful tracks on their second self-released, all DIY album Sleep Hat. They have that very unique quality in an indie band that breeds success. Each track seems to ring a different bell. "Bronze" uses a strangely wa-wa'd guitar and some quick-yelling a la Modest Mouse. "Chard" has lovely harmonies reminiscent of the lo-fi anthems from Guided By Voices. "Harpo" paints a quizzical picture using layered, octave vocals and an afterthought of an electric piano that recalls Vic Chesnutt. "Chunk" is a quite, scaling disco instrumental verve. "Fexture" is a startling rocker with classic 70s front-pickup guitar tone and very catchy lyrics. "Flutter" reeks of Pavement from their glory years, using a ringing, minor-keyed guitar with a great, Sebadoh chorus. "Twen" continues the Sebadoh theme at first, with a great, Barlow-esque descending riff that leads into a quick yell of a chorus before closing. "Jumbo Mambo" packs the disco groove again, complete with synthesized violin and rhythmic vocals. The instrumental "Rogue" jams one of Sonic Youth's favorite chords for an impressive conclusion to the track.

Don't let all of the comparisons fool you. The guys in Moron Parade are making some truly unique music. Throughout this album I'm repeatedly impressed by the dynamics it creates. Each song manufactures a different mood; everything from pissed off to playful to sexy to mournful. These songwriters thoughtfully mull up tunes that express the colors of daily life without throwing it in your face.

There are a few lulls in the album. "Flurb" runs a repetitive Hawaiian groove that has never struck my fancy, but it keeps me interested despite my bias. "Lonjh/14" is a Phish-esque instrumental that I might have liked in college, but don't have much patience for now. "Jog" is a slow, wordless piece with a quietly strummed guitar that sounds vaguely hymnal. There are several instrumentals, which may expose a weakness in lyric writing that is typical of young bands. More often than not, there are lyrics, and they are plenty interesting. The excellent "Fexture" proclaims "Oh you! Try to get over / way to get under / there's no way around this. Fuck you! / Is that what you're asking / as long as your asking / might as well taste this. Calm down! Reason for anger / searching for danger / get down on paper," before summarizing with "There's no better time then now!" "Blog8" runs a mantra of "Every time I turn around, I see you standing there" along with a lo-fi wall of over-driven guitar.

For the most part, you're reading a rave review. Moron Parade has got what it takes. They are unique and interesting. Their hooks are plentiful and riveting. I just hope that when they get signed the quality studio equipment doesn't corrupt their sound.


<<
moron parade | heatslap | 01.20.09
from Space City Rock; Houston, Texas



Moron Parade still suckles at Frank Black's flabby teat, but that's a good thing. Their updated take on vintage Pixies may not be the most original concept -- and like it's really going to be any better than the original -- but the songs on Heat Slap have a unique quality about them that's difficult to explain. The Portland band's musicianship probably has a lot to do with it -- each of the members lends their background and expertise to the music's style, and Moron Parade ends up with songs that run up and down the musical landscape. Most of the album is straight-forward indie rock (like their best effort, Dark Nights, Knife City), but many of the songs are more experimental. The album's opener, "One Note," is a humorous jab at the industry and themselves -- the band claims that it would be so much easier if all of their songs were only one note.

Listeners would do well to skip "Tennis Locum," however, as the singer's high-pitched whine grates quickly. But overall, Moron Parade score again with an album full (21 tracks full, to be exact) of indie rock. Dark Nights, Knife City is better, but this is an album worth owning. (DAC)



<<
moron parade | heatslap | 01.20.09
from Prog Resiste; Limal, Belgium








<<
moron parade | heatslap | 01.20.09
from Last Plane to Jakarta; Houston, Texas

The webmonster and I sang a really stupid song several times, the one about working at Burger King that's sung to the tune of "Carol of the Bells." Shameful. But fun. Later, during housecleaning, I happened across one of the uglier-looking promos I'd ever been sent, Moron Parade's Heat Slap. It was so ugly that I never even played it. What to do? I put it into the kitchen CD player and oh, my God, it's great. I mean like some of the best indie rock I've heard in a long, long time. Inventive, enthusiastic, clever, sweeping, catchy. Great. When you're making something this good, guys, you gotta do two things: one, package it in a sleeve that makes it look like you care at least a little about how truly good your music is ('cause, really: this stuff is fabulous), and two, you gotta pick a better band name than "Moron Parade." Oh, sure: there was a nineties punk act called "Asshole Parade," and that was a wonderful name, but it had the benefit of the word "asshole." My new name for "Moron Parade," who if I haven't mentioned it are a really really good indie rock band who deserve to be widely heard, is "The Hats." Yes, that's right. The Hats.

John Darnielle (mountain goats)


<<
moron parade | heatslap | 01.20.09
from Deep Fry Bonanza; Houston, Texas

I've always been irked by the fact that I don't get more demo cassettes and CDRs as promos for DFB; I don't know if it's that people see labels like Fat Wreck Chords on the site and think that I don't care about any band that doesn't sell at least 5,000 copies per release, but that's simply not the case. I spend virtually all of my spare cash on obscure vinyl and I review a lot of it on the site, pushing more established bands off the review schedule to help get the word out about the music I love.
However, there's something about hearing a band whose existence you had absolutely no clue of and being totally blown away. Such is the case with Moron Parade; don't let the fact that this is just a CDR with an insert made on a shitty desktop printer fool you, this is easily one of the best indie rock bands I've heard in ages. In fact, after listening to all twenty-one (!!!) tracks on Heat Slap I'm convinced that Moron Parade must be stealing their songs from someone; how else could a totally unsigned band have this many totally unique and classic songs?
Since I don't know where Moron Parade are getting these beautiful slices of indie rock from I'll just assume that they're all theirs and tell you about them. "One Note" opens the CD and despite the fact that it's the simplest and most straightforward track here it's probably the band's best. The chorus, "It would be so easy if every song we had only had one note" is a total misnomer; the song's chorus reminds me of Pete Shelley's classic Buzzcocks tunes in the way that the melody seems to keep going and going, stretching out and pushing itself further and further until the singer is totally breathless. "Mints!" is totally different; while it still has a delicate melody the fuzzed-out guitar and cocky vocals give it a bit of a rock flavor, and though Moron Parade's energy level spikes on this song it all gets re-diffused in the song's mantra-like outro.
So you want more? Moron Parade have it for you with the droning, Flaming Lips-esque "Ants," "2x Twice," which sounds like it was yanked straight off of Daydream Nation and one of my personal favorites, "Permanente," an odd track that combines the funky melodic bass lines of the Minutemen with the loose, jammy feel of the Meat Puppets (actually, I think that this is the sound the Minutemen were going for on their last album but never achieved).
I could go on, but with twenty one tracks of stunning quality this review could easily be thirty pages long, so I'll close this sucka out by saying that if you're looking for value for your indie rock dollar track these Portland indie kids down and give this CDR a spin or ninety. If all demos were this good there's no way that record labels would exist.
Added: March 25th 2003
Reviewer: Daniel


<<
moron parade | heatslap | 01.20.09
from Delusions of Adequacy; Houston, Texas

I will be the first to admit, I am always a little skeptical when I get a CD-R demo album in a plain white paper sleeve and an insert that was printed in a hardly visible fashion directly from some guy's computer, but you never know when or where you are going to find a shiny gem amongst all the other dull and disposable crap. So, where exactly does Moron Parade end up? Well…
Apparently, Moron Parade was created in September of 2000 in Fort Collins, Colorado. Band members came at the project from a variety of musical backgrounds; from indie and hardcore, to classical and jazz. That sense of diversity is obvious throughout all 21 songs on Heat Slap. "One Note" opens with a fuzzy dose of garage punk as multiple voices chant, "It would be so easy if every song we had only had one note!" But these guys know a lot more than just one note, as that little ditty is followed by the pop-meets-post-rock of "Permanente." Things continue this way, like a roller coaster you are blindly riding for the first time. You have no idea what you are about to suffer through, and you can't be certain of whether you will complete the journey without losing your lunch, but you buckle up and take off anyway.
It is the mid-tempo pop tunes like "Bite My Tongue," "Indie Rock Sunday," "Through the Heart," "Never Done Anything," and numerous others that tend to dominate the album and stand out as highlights. But the band is consistently filled with energy, whether it is cranking out peppy numbers like the excellent "Mints!" and "Millions of Prizes," or more droning numbers like "2x Twice," "Feel My Rom," and "EC8," or noisy Sonic Youth-esque jams like "Ans." There are also some oddball experimental moments like the peculiar voice samples of "Tennis Locum." "Pajamas" has a twangy folk feel to it, while "Leave Me Alone" and "Understand" are quiet acoustic numbers. Yes, this is equally as, if not more absurd and unpredictable as it seems.
What ends up impressing you is the fact that an unheard-of and unsigned band was able to create this many unique musical nuggets. Many of the tracks are extremely short, making the fact that there are 21 of them a little easier to swallow. If you enjoy digging for diamonds in the rough, this one is for you. The album itself is going to be tough to find, and within it you have some searching to do as far as which tracks are worth treasuring.
- Eddie, 5/19/03



<<
moron parade | heatslap | 01.20.09
from Expose; Los Angeles, California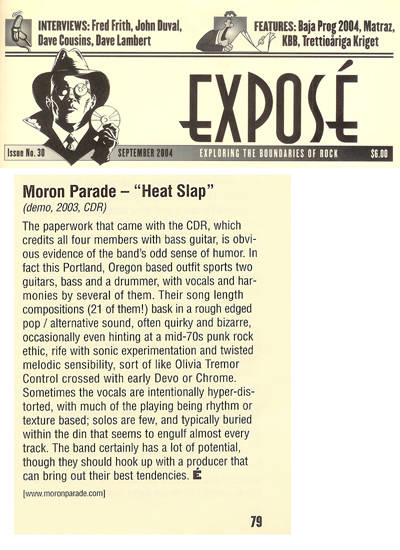 <<
moron parade | heatslap | 01.20.09
from Axiom of Choice; Utrecht, Netherlands

Summary
The reviews I got with this one describe Moron Parade as oddball indie pop with references to Pavement and Sonic Youth. Interesting instrumentation, but don't think there is only bass on this one. In fact, it seems most members can play any instrument the band utilizes, guitar, bass, drums or keyboards.
The music
One Note is quirky up-tempo track, definitely not one note. The next one Permanente has influences of The Fall mainly in the vocals, and a strong bass presence. The tongue in cheek indie rock continues on 2x Twice. The band has a certain avantgardisticness to them, which makes them somewhat fitting for this website. With Bite My Tongue me move into a noisy Britpop direction. I like the hallucinating guitar work towards the end. Bite My Tongue is a catchy track, what most reviewers will call indie rock. The melodies are in order. Tennis Locum is a short one featuring effects and samples. Mints! has a rowdy ending with those hallucinating guitars again.
Ans is a relatively long piece, clocking over five minutes. It opens with atmospheric guitar and bass lines. A low droning, but melodic sound as this song builds up, until the punkrock elements come shining through, well shining, bursting is more like it. Distorted punk rock, but never lacking in melody. Feel My Rom is a bouncy one, with sharp noisy guitar work. The vocals have been vocoded out of recognizability. A weird effect. Indie Rock Sunday has a rather clean opening and low vocals out of which boredom eloquently speaks. Through The Heart has vocal harmonies that do not harmonize very well, on purpose I would imagine. The song ends very low key with synths.
Ec8 is an easy going bouncy track, with the guitar going slow in the beginning. The noise comes after as does the singing. There is something of Kraftwerk in here, Autobahn. Millions Of Prizes brings us back to standard quirky indie rock. Pajamas has subtle strummings of acoustic guitars. The vocal melodies are very recognizable, and it has a kind of warm Christmas like feel. A surprising turn of events. Riptape means the return of punk rock, while Penelope is a low pace melodic piece, with the guitars rambling. The vocals are desperate, a bit in the vein of Red Hot Chili Peppers. Interesting song and good too.
Six more songs to go. Malpractice is the longest one on the album, almost six minutes. The guitar reign on this one, in a varied way. Surprising that this would be an instrumental. Leave Me Alone opens with acoustic guitar, and like Never Done Anything which follows it, is quite low key. The latter of these is quite repetitive with sharp guitar lines throughout.
Eradicate is a strong track, bouncy but instantly recognizable. The vocals are aggressive, the guitar lines repetitive. After Understand we conclude with the up-tempo Rikshaw.
Conclusion
Indeed, this band owes more to Pavement and Sonic Youth than Genesis, Yes or the other progressive greats. I liked the music, at least much of it, although sometimes the music is a bit too straightforwardly indie rock. Melodies are usually okay and the overall sound is fresh. However, this is not something in the line of what we usually review for this website, even when the band turns to avant-garde at times.

© Jurriaan Hage



<<
moron parade | heatslap | 01.20.09
from Bite Me Zine; Houston, Texas

Moron Parade - Heat Slap (Parade Co. Records) Should we still be happy that man has progressed so much in 2003 that they still churn out bad indie rock like it was 1991? Should we be concerned that these bands feel it necessary to spit out 60 minutes worth of tunes, thus, filling up wasted future landfill discs? Nay. You don't have to worry, because even if bands like Moron Parade seem threatening enough to take over the world, you are safe knowing that they and their label are so small that you doubtfully would even see their discs in the $1 bin to even worry about the clutter it would take up on your shelf. -Repojay


<<
moron parade | heatslap | 01.20.09
from Legends Magazine; Houston, Texas

Moron Parade - Heat Slap - ParadeCo Records
Wow. Sometimes I think people release garage albums just to get attention and respect from their fellow highschoolers. But there are better ways, and you don't have to waste plastic or paper in the process. Just pretend you're going to jump off of a bridge. Beat up homeless people. Vandalize a graveyard. It's less socially harmful than releasing a piece of crap like this into the public's CD players.
the sermon of judgement


<<
moron parade | heatslap | 01.20.09
from Gnosis; Houston, Texas

Heat Slap rating according to the good people at Gnosis
Total number of Gnosis titles: 38575
The average album ranking is 9.35 on a scale from 0 to 15
Heat slap received an 8.00
8: Slightly above average. An album with noticeable flaws, although few permeate the album entirely. Perhaps half the album is superb but the other half is so-so. Or there's a sentimental connection and little else.
www.gnosis2000.net

<<
moron parade | heatslap | 01.20.09
from Rocky Mountain Bullhorn; Ft. Collins, Colorado


'Moron' used to be a popular word amongst psychologists, so that if your state was moronic it meant you were mildly retarded despite your good looks, and that when it came to your mind, you were actually ten despite those six years spent in college. But now, in this great age of tact, moron is a word no longer in scientific use because it's considered offensive. The truth is, however, that 'moron' has met silence simply because it's no longer needed–most morons are either locked away in institutions or kept at bay by television, so why bother labeling them?
Yet there remains on the fringes self-proclaimed militant morons caught up in a fight against complacency. They might threaten a bite or two, but their primary weapon of choice is music–twisted words set amidst the intricate chords and riffs of competent musicians. In other words, there is a band out there tinkering with guitars, pencils and digital multi-track recorders, all in preparation for an insider's exhibition. They call themselves the Moron Parade.
Despite being a band that, evidently, no one cares to know, the Moron Parade has written a great amount of music, most of it an oddly sophisticated style of self-mockery and cultural mimicry. To spend a few days listening to the two-inch-thick set of discs they've recorded is to be schooled in the art of modern intuitive irony, not to mention the art of modern loving. There is, for instance, an impertinent fascination with anal sex, as with "Butterfly," a steel guitar type of song that documents the heady desire for a girl's tattooed rectum. There are bathtub fantasies with celebrities such as Jennifer Love Hewitt and songs about self-arousal, as in the lyrics, "I'm gonna turn the lights down low and show me how it's done/ gonna give me kisses where I can." And there is a ridiculous pseudo-rap song about a crack fiend living on a stolen houseboat, the words of which were written by Stephen Evins, the band's goggle-eyed poet and adjutant trumpeter.
"But that's the extreme of the extreme," says Matt Martin, "where it's so backwards and it's presented so forwards that it's not even supposed to be taken literally."
He then adds that those songs come from a different era, which is peculiar because most were written in the past two years. But the comment aptly describes the band's obsessive interest in progression, its rapid development from initial experiments with a four-track to recent complex recordings. And it must be noted that this has taken place during a period of time in which their bassist quit and half the band moved temporarily to Boston only to find outrageous rent, a depressed economy and a directionless punk scene. From this emerges a different kind of demand–while it seems unlikely that they'll quit writing songs verging on the ludicrous, there is now the addition of lyrics such as, "So hey there all you terrorists/ we know that America is a fucked up place/ but it's not your job to tell us that/ that's why we have hardcore bands."
Daryl Waits wrote the words, and the song, "president hardcoreband," is found on their independently released album Receiver.
"I hope the jesting and the sincerity both come through, because I think the songs on Receiver reflect a more mature style," says Martin, distinguishing these songs from those found on older bootlegs. "We didn't set out to make an album that catches our 'live jamming sound.' It's just several ideas from several different musicians put together."
Actually, at this point the band consists of only three guitarists–Martin, Waits and Adam King. But all are skilled with bass, drums and keys, so live situations involve regular shifts, with the songwriter usually taking up the guitar and lead. On stage, such acrobatics might pass as halting, but in songwriting the result is dynamic fluidity. It's difficult, for instance, not to mention Frank Zappa or even the fluty sound of Jethro Tull when speaking of Waits' screaming songs. Whereas Martin tends toward subtler compositions with lyrics that admit to confusion, the same is true of King, only his songs are built in the same way that a storm gathers on an autumn afternoon, directing the mind towards contemplation. His lyrics are smart, as with "Brain Atoms," in which he sings, "Asking over and over again/what am I doing/how can I become greater than myself?"
It's a progressive question, one that thankfully admits to a kind of stupidity, because every moron knows that only assholes claim to know everything.
the Rocky Mountain Bullhorn, August 2002 in Print and Online